Best Online Animation Courses
If you are looking to get into the digital animation industry one thing is certain: an online animation course is a great way to learn the tools of the trade without spending an arm and a leg on tuition.
Learning digital animation at home on your own time using online courses allows you to learn new skills on a schedule that works best for you.
Take a look at our list of the best online animation courses to see which one is the right choice for you.
For those looking to learn the basics of animations and how to apply your new skills in After Effects, check out Animation Bootcamp by industry professional Joey Korenman.
In this course, you will learn techniques from professional After Effects animators as well as the basics of animation, such as Eye Trace and Oscillation.
If you have been frustrated with trying to get smoothermovements in your animations, this is the course for you.
Designed for those that already have a basic understanding of how to use After Effects, animation Bootcamp is a 12-week course that is ideal for people that want to expand their knowledge on Stop Motion animation and create more fluid movements in their character designs.
Animation Bootcamp takes 12 weeks to complete and those that take the course should expect to dedicate 15-20 hours per week on the lessons.
You will have access to project files and exercises for each lesson, podcasts, and 25+ hours of video lessons.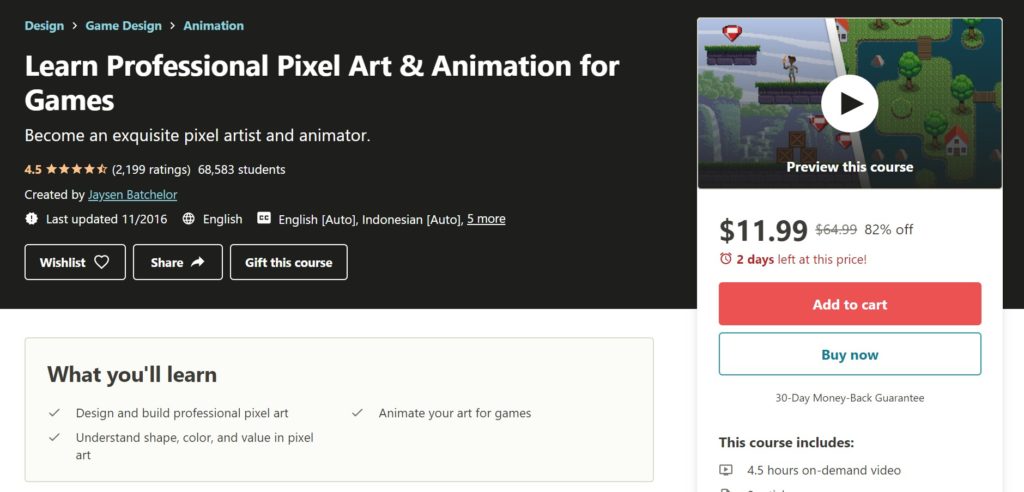 If the cost of animation school has kept you from pursuing a career in your dream field, this affordable and information-packed Udemycourse could be a game-changer.
As long as you have a computer, a mouse, and access to Photoshop, you will be on your way to creating fantastic pixel animations and artwork in no time.
Learn Professional Pixel Art & Animation for Games includes 6 sections with 48 lectures overall and has an overall length of just over 4.5 hours.
With several assignments, you will get plenty of practice making really neat images and animations that you can include in a portfoliofor jobs in the industry.
This course allows beginners to learn the basics of pixel art and grow their skills from there.
One of the hardest parts of branching into animation is that it can be difficult to build a portfolio. Design Bootcamp gives you projects based on real-world scenarios, making it easy to compile several great examples of your design skills and knowledge.
You will be learning color theory and composition skills that will be applied to storyboards and style frames you will be designing in Adobe Photoshop and Illustrator.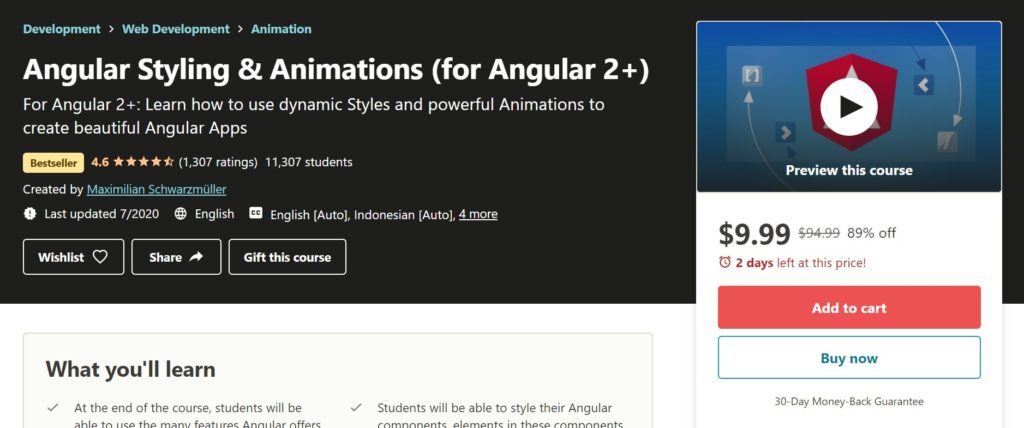 If you are utilizing Angularto create animations for your next app, then this Udemy course could put you miles ahead in your project portfolio.
Designed so that anyone using a version of Angular 2 or newer can benefit, there is a staggering amount of content and instruction for the money.
The entire course stretches for just over 7 hours of video lecture content, spread across 7 sections, with a combined 124 lectures on Angular functionality and micro tutorials.
You will receive lifetime access to all the course materials, including 36 downloadable resources, and mobile and smartTV access as well.
Some of the content that is covered includes Styles, CSS frameworks, Components and Templates, View Encapsulation, Changing Styles and App Behaviors, Advanced CSS Syntax, Moving Things With CSS Animations, and even angular packages like the animation package and the pro package.
Included after the main course material is an addendum for the newest version, 4.2, which will prove helpful to anyone looking to upgrade or learn version-specific fine-tuning of their animation process.
If you are feeling overwhelmed with Adobe After Effects, you are not alone. It is one of the most complex video suites ever created.
That's where this online course can help you succeed. It breaks down the character animation process specific to After Effects. You will be taught key techniques to create or improve character animation.
The Character Animation Bootcamp online course from School of Motion is a top-tier online course with 25 hours of video instruction, coordinated lesson source, and project files for the east unit.
You will even receive in-depth feedback and constructive criticism from professionals in the Animation field.
The course is taught by Morgan Williams, who has been an animator in a professional capacity and a director, for more than two decades. Some of his professional credits include production for the BBC, Comedy Central, WGBH, and even SonyPictures.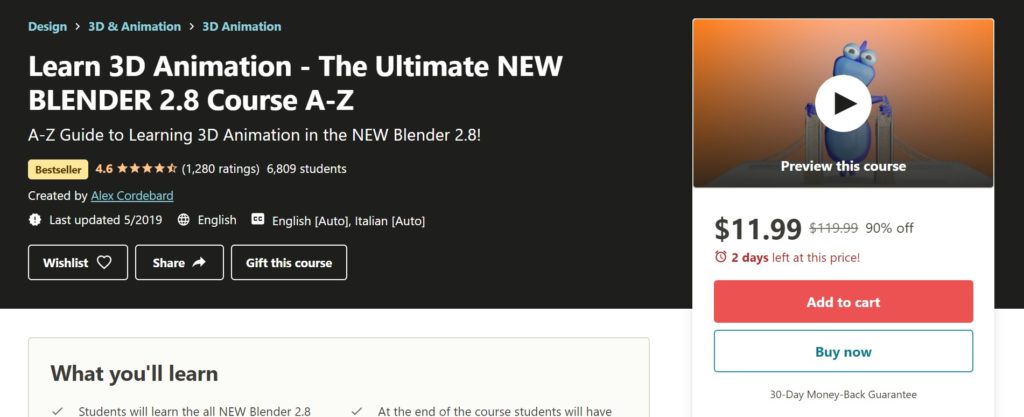 This course is geared toward anyone that wants to get started in 3D work, and has zero knowledge of the process, and is also going to be using Blender 2.8.
The economically priced course will get you up and running with Blender, learning the interface and the beginnings of skills you will need to create your very first file.
By the end of the course, you will be able to create an originalanimation of your creation, from start to finish.
Once purchased, this course gives you access to a full 19 hours of on-demand video that you have access to for life.
You can also then access via mobile devices and even smart TVs. Once you've completed the course you will have access to a certificateof completion.
Wrapping Up
When you are shopping for the best online animation courses, a large part of the decision will be dependent on what softwaresuite you are using.
For example, if you are using Blender, Angular, After Effects from Adobe, then you should stick to using courses designed for them since while many principles and processes may be the same, the controls to get there vary greatly from program to program.
If you have not decided on a software suite yet, then you may find it prudent to use a freeprogram like Blender, and a low priced course from Udemy, to see if it is something that you want to make a significant investment in.
If you are an After Effects addict, one of the School of Motion courses might be perfect for you, to widen your practice base and add to your portfolio.
Christina Amerson has over 10 years of experience working as an Elementary teacher. She has 3 kids and writes in her spare time.