Many small businesses will employ a bookkeeper to handle all of the bookkeeping in-house. Some will hire a separate company to take care of it, and others will have entire bookkeeping departments.
Nearly every business in operation, whether small or large, needs to perform bookkeeping tasks at some point. And in order to become proficient at bookkeeping, you will need appropriate education.
The perfect way to accomplish this is to use one of the best online bookkeeping courses available. These courses are self-paced and allow you to get a certification in bookkeeping, so you can work at a pace that is comfortable for you, and still accomplish your goals.
The following courses are considered to be some of the best online courses for bookkeeping.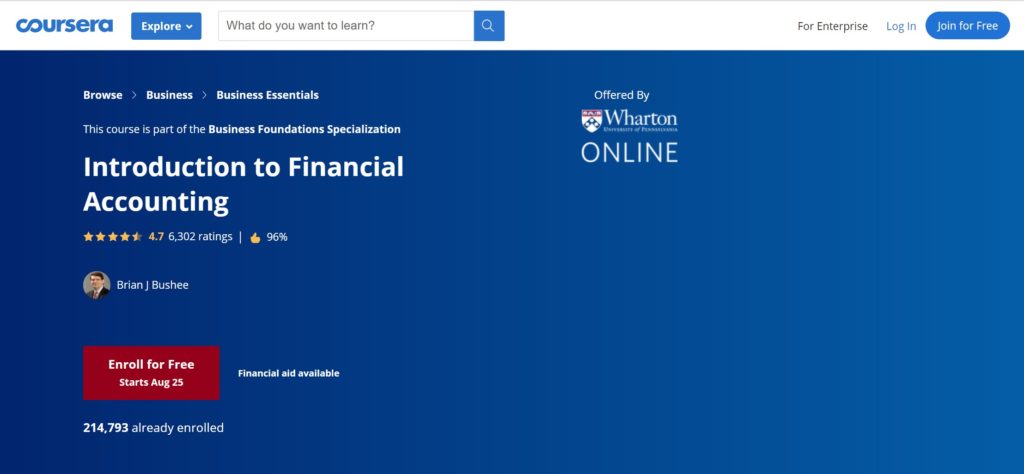 This course will help you gain technical proficiency in the skills you will need to become an in-demand bookkeeper.
You will learn how to analyze statements and disclosures needed for financial analysis, and how standards for accounting and managerial incentives affect the overall financial reporting process.
Once you have finished this course you will be able to read income statements, cash flow statements, and balance sheets, the three cornerstones of financial statements.
You will also be able to apply these theories and practices to real-world challenges as part of the Wharton Business Foundations Specialization.
This course is taught by Brian Bushee, who is the professor of accounting at the Wharton School of the University of Pennsylvania.
Before lending his expertise to the University of Pennsylvania, he was an assistant professor at Harvard Business School and a visiting professor at the University of Chicago.
His educational accomplishments include receiving his Ph.D. from the University of Michigan and his A.B. from Duke University. His professional merits include a position as a Senior Credit Analyst and a National Office Researcher. He has been awarded the MBA Excellence In Teaching Award and the Helen Kardon Moss Anvil Award for outstanding teaching quality.
The syllabus for Financial Accounting Fundamentals is based on a four-week course length, but as a self-paced online course, you are of course not bound by this timeline and are encouraged to complete it at a pace that is right for you.
Take a look at what this course will cover:
Introduction and Balance Sheet
Accounting is essentially a foreign language, so to have a proper foundation, you will need to learn and practice the basic components of this language, like vocabulary, grammar, and syntax. This is considered vital to being able to read, comprehend, and retain the information contained in financial statements.
Accrual Accounting and the Income Statement
Week two starts with an overview of how Accrual Accounting impacts recognition of the Income Statement accounts. Entry adjustments will be covered in preparation for financial statements. At the end of this week, there will be a discussion of closing entries and preparing the Balance Sheet and Income Statement.
Cash Flows
This week begins with how to classify cash flows as either investing, operating or financing. Work will begin on preparation and analysis of the Statement of Cash Flows. This week will close with a discussion of differences between Earnings, Cash from Operations, EBITDA, and Free Cash Flow.
Ratio Analysis and Final Exam
The final exam will occur during the final week. Ratio Analysis will be explored and will include defining and discussing different ratios and what they mean. Understanding this will give new depth to your bookkeeping knowledge.
This course is currently offered for free through Coursera and can enable you to open countless doors of bookkeeping opportunity and income. Other perks of this course include:
Specialization
Shareable certificate
Self-paced option
Included videos and readings
Practice quizzes
Graded assignments and peer feedback
Graded quizzes with feedback
Graded programming assignments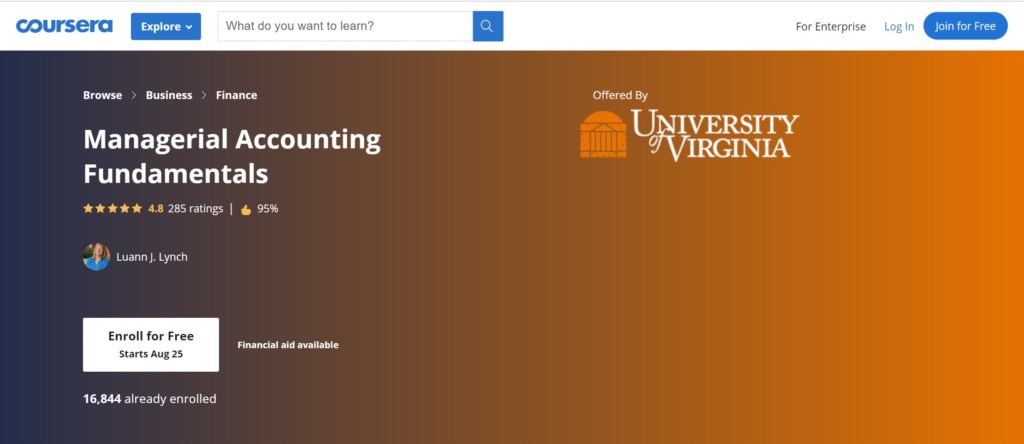 This course was developed at the University of Virginia, and taught by expert faculty. You will learn the fundamentals of managerial accounting, including navigation of the information, both financial and otherwise, that drive decision making by management.
Also taught are cost allocation systems and cost behavior, creating a cost-volume-profit analysis, and determination of whether those costs and benefits are relevant in managerial decision making.
This course is taught by Luann Lynch who is a professor of business administration at the University of Virginia.
She holds an MBA from Duke University and a Ph.D. from the University of North Carolina. She currently instructs Accounting in the first-year core MBA program and a second-year elective in management accounting.
Her professional accomplishments include being recognized as an Outstanding Professor in BusinessWeek's Guide to the Best Business Schools, being the recipient of the University of Virginia Alumni Board of Trustees Teaching Award, and having numerous works published in The Accounting Review, Journal of Accounting and Economics, and the Journal of Financial Economics and Review of Accounting Studies.
This course is also outlined in a four-week syllabus, but you are free to study at a pace that suits you.
Managerial Accounting And Cost Behavior
The opening week of this course will see you instructed on the differentiation of managerial from financial accounting.
The financial information and other considerations that managers rely on for prudent decision making will also be discussed.
There will be discussion and work related to cost behavior, cost classifications, and how these classifications subsequently affect decision-making. An overview of scatterplot and estimating cost functions using a high-low model will also be explored.
Cost-Volume-Profit Analysis
The second week will move on to examining the relationships between cost structure, price, volume, and profit.
Investigation as to why these relationships matter will occur as analyses are conducted and questions are addressed regarding break-even scenarios and profit generation.
Cost Allocation
Week three builds on previous concepts of analyses and moves forward with a discussion of cost allocation and the differences between the traditional and activity-based systems. Overhead rates and allocation will be pursued in both systems.
Relevant Costs and Benefits
The final week of the course brings discussions of costs and benefits and deepening your understanding of both and their relevance in certain decisions. Following that there will be an inspection of the resultant financial impacts of various decisions.
By the end of this course, you will have the ability to:
Describe different costs and they are graphically represented
Conduct cost-profit-volume analyses to answer questions about profit and breaking even
Calculation and allocation of overhead rates in both activity-based and traditional system
Determine if given costs and benefits are relevant or irrelevant to a particular management decision
Decide on a reasonable course of action for a particular management decision and its resultant financial impact
Bookkeeping Tools You Will Need to Learn
To increase your viability, versatility, and value as a bookkeeper, there are some well-known software suites you should know how to operate, and how they relate to your duties.
Below we take a look at the most popular programs that are used to great effect by bookkeepers across the country and beyond.
QuickBooks is one of the standard bookkeeping and accounting software suites.
It has been around for quite some time, and with good reason. It is extremely versatile, being useful for nearly any industry or business that uses it.
While you do not need any expert training to be able to learn and use QuickBooks, having a bookkeeping or accounting background will quickly make you a power user.
QuickBooks allows you to track all of your important numbers at a glance via the dashboard but also gives you the functionality to perform complex bookkeeping and accounting tasks, like create P&L reports, calculate EBITDA, and so on.
MYOB is a relatively new bookkeeping software that is designed for an Australian user base. It provides all the functionality of larger and more costly programs, in an online program that you can access from anywhere.
MYOB allows you to manage and execute payroll, handle invoicing, manage taxes and GST, create reports and budgets, track jobs, bills, and expenses, monitor inventory, manage customers and suppliers and their payments, and have in-depth visibility to cash flow. It also supports multiple currencies.
Sage 50cloud is a full-function desktop accounting suite that is cloud-connected. It includes remote access, intelligent report creation, and time-saving automation that gives you the data and records you need, without spending hours in front of your screen.
Excel
Excel has been a part of the Microsoft Office collection since its inception, and while it is useful for very specific tasks and reports, you will likely find yourself doing much of the complex accounting tasks outside Excel and perhaps importing reports here and there. It is a very valuable tool when used effectively, and it can add value to your skillset as a bookkeeper.
Other Good Resources
A great resource for beginners who like their information condensed and distilled down to bite-sized crash courses.
Presented by a licensed Florida CPA, this channel covers a wide range of topics and scenarios and talks them through from ideation to practice.
With a large number of his videos being under the ten-minute mark, this is a great channel to get your tips in quick visual lessons.
The Accounting Game is an amazingly insightful book that explains the principles of accounting using the vehicle of a child's lemonade stand.
It will help you to not only understand but master the basic components, and create an accelerated learning track from there.
Is another great free online bookkeeping and accounting course. With 34 chapters of content, you have access to online course materials, and with the upgraded pro membership you can also have access to the credentialing certificates for your various achievements.
Wrapping Up
Taking one of the best online bookkeeping courses can be one of the single most important things you can do to get started in this industry.
Not only will it give you the knowledge you need to break into this field, but the additional skills and analytical abilities to be an asset to the business you work with.
Christina Amerson has over 10 years of experience working as an Elementary teacher. She has 3 kids and writes in her spare time.