Best Online BSL Courses
British Sign Language, or BSL, is being used by more than 100,000 deaf adults as their native language and primary mode of communication, and by an additional 250,000 people daily in order to communicate with friends and loved ones.
This makes it the most commonly used form of sign language in the entire UK. There are also countless social workers and those who work with the deaf who use it daily as a second language.
BSL speakers use various hand and body positions and movements in order to communicate with other BSL speakers. With the complexityof the language, it can certainly prove challenging to teach oneself how to speak it.
This is what leads many people to search for the best online BSL courses. In this article, we will take a look at several of the leading online resources for learning British Sign Language.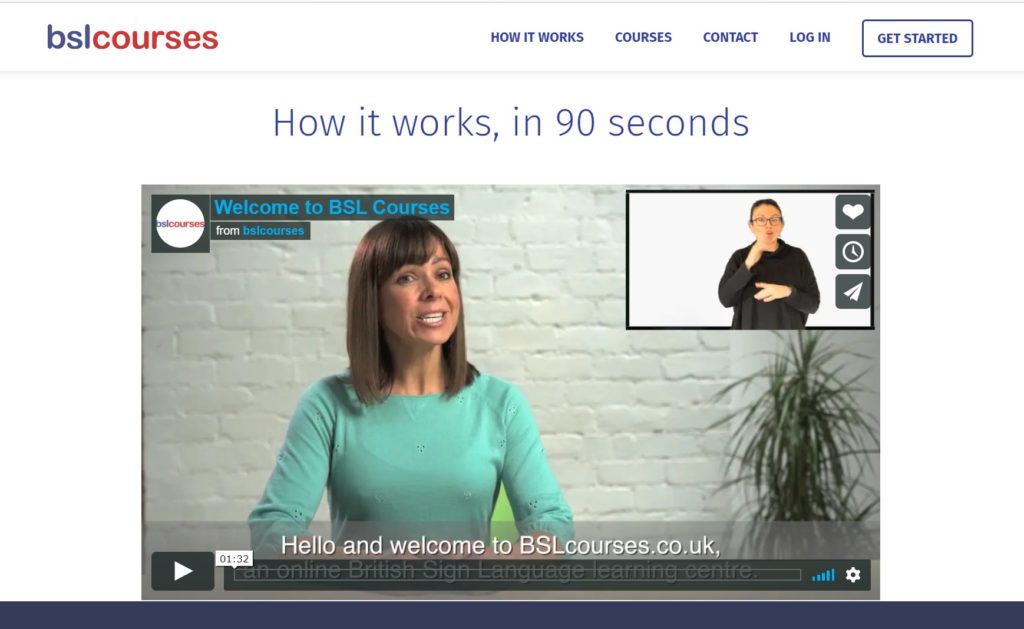 Not only does Level 1 BSL teach you everything you will need to know about BSL, but they also give priceless insight into the deaf experience and deaf awareness.
Level 1 is the perfect course for the sign language beginner. When you finish the Level 1 course will be able to communicate in a confident manner, using basic signing skills, with the deaf and hard of hearing.
You will also be given a certificate of completion from the BSL courses website.
Each lesson has both video courses and expert-led 1-on-1 webcam tutoring sessions.
As soon as the checkout process is complete, you will have access to your lessons, your course overview, and the ability to communicate with your tutor.
With your student account, you will have access to your lessons and recorded tutorials in order to review or refresh whenever you feel you need to.
This course will teach you:
Fingerspelling the alphabet, your name, and where you come from
Calendar signs, dates, days, times, and basic colors
Directions, transportation, and how you got here
Discussing family, friends, and pets
How to talk about hobbies, activities, and what you are interested in
Common descriptors for people, buildings, and objects
Signs and directional verbs
Reception, presentation, and non-verbal conversational skills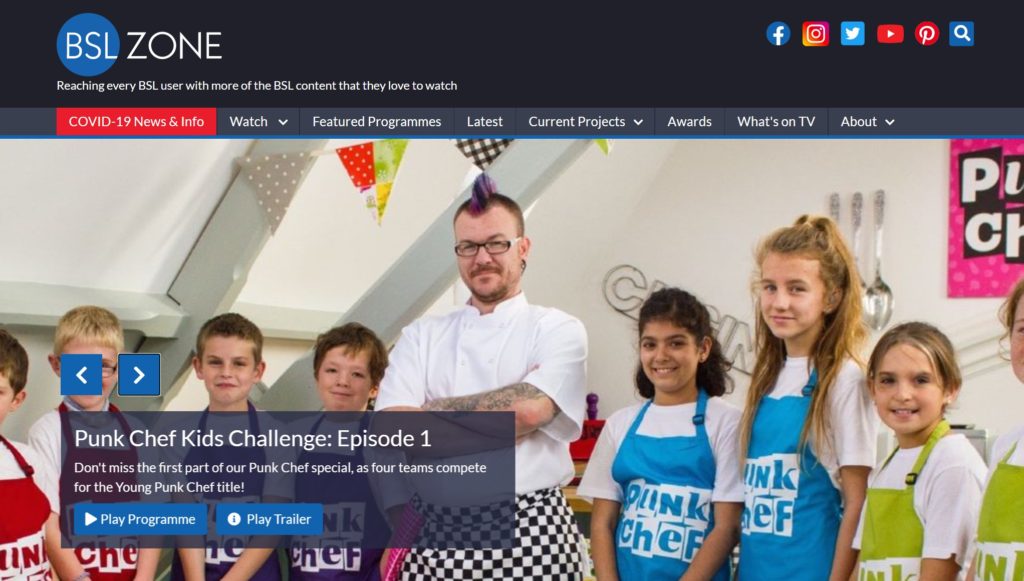 BSL Zone isn't a course but it's still a great way to learn. This is a content producer, commissioned by the British Sign Language Trust, whose channel can be viewed at specific days and times on major providers Sky, Virgin Media, Freeview HD, and Freesat.
Programming can also be viewed at any time online and via Apple, Android, or Kindle Fire devices.
It was created as a way for broadcastersto meet the legal requirements of providing sign language programming on eligible channels.
BSL Zone provides unique content that, while not an organized course, is truly invaluable in learning BSL conversationally and in an immersive environment.
The genres represented in the BSL Zone content are nearly as extensive as other streaming services and content providers but specifically geared toward deaf people and the deaf and hard of hearing lifestyle. You can find drama, comedy, educational
Some shows and content offered to include:
American Shelter – A documentary about a refuge for deaf domestic abuse survivors
Secret Lab – Accessible and fun science programming for kids, presented in British Sign Language
Up For It? – A family show for deaf children and parents
Battle Lines – WW1 drama about a soldier rejected due to deafness
Best Coast – Deaf-centric travel fishing and adventure show
Evolution of BSL – Educational show about the evolution of sign language
Getting Personal – Looks into the lives of deaf people, their struggles, and victories.
Wicked – Variety and magazine show with travel and adventures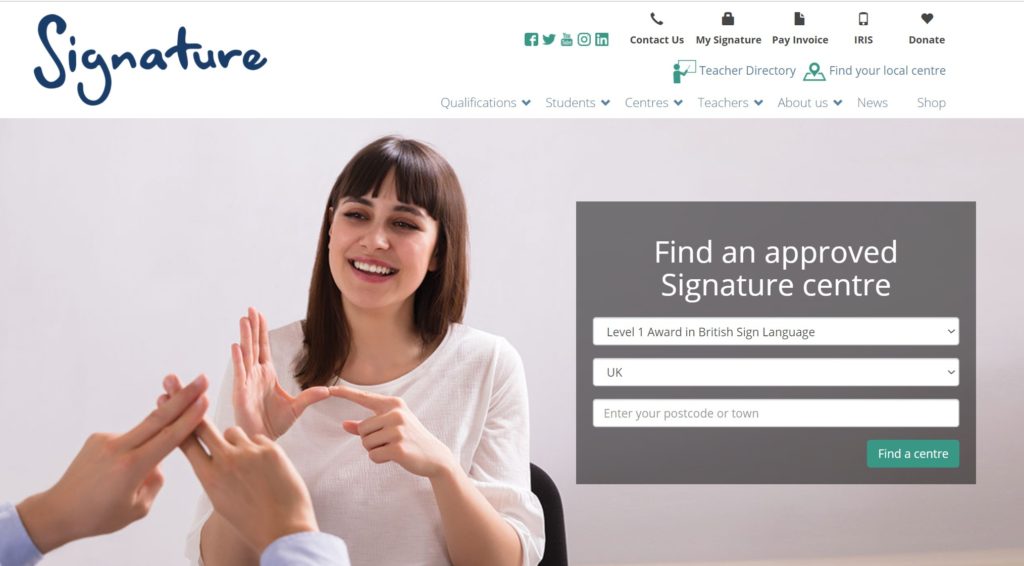 The Level 1 online BSL course from Signature is arguably one of the most comprehensive and thorough courses you will be able to find.
Signature is the premier awarding body for qualifications relating to deaf communications.
In the nearly 40 years of communication experience they have, they have provided the means by which more than 400,000 people have been able to learn BSL.
The Level 1 course will teach you basic communication with BSL by showing the gestures, expressions, and body movements that enable communication with the deaf.
The qualification you will receive at the end of the course is equivalent to the UK Occupational Language Standards 2010 at Level 1.
To receive this you must pass all three sections of the course, Intro to BSL, Conversational BSL, and Communicate in BSL About Everyday Life.
These sections add to a total of approximately 64 guided learning hours with an additional 26 hours of study, for a total of 90 learning hours by completion. The objectives of the course and subsequent qualification are to ensure you are able to:
Understand and use a simple beginner's vocabulary to create sentences in BSL
Take part in simple, daily conversations in BSL
Follow and provide simple directions and instructions given in BSL
Follow and provide simple statements and descriptions given in BSL
The course emphasizes being able to take it and succeed without any previous education or knowledge of BSL. Not only is online instruction available, but it is also available and supported by over 500 centers in the UK, at places like establishments of higher education, schools, and academies.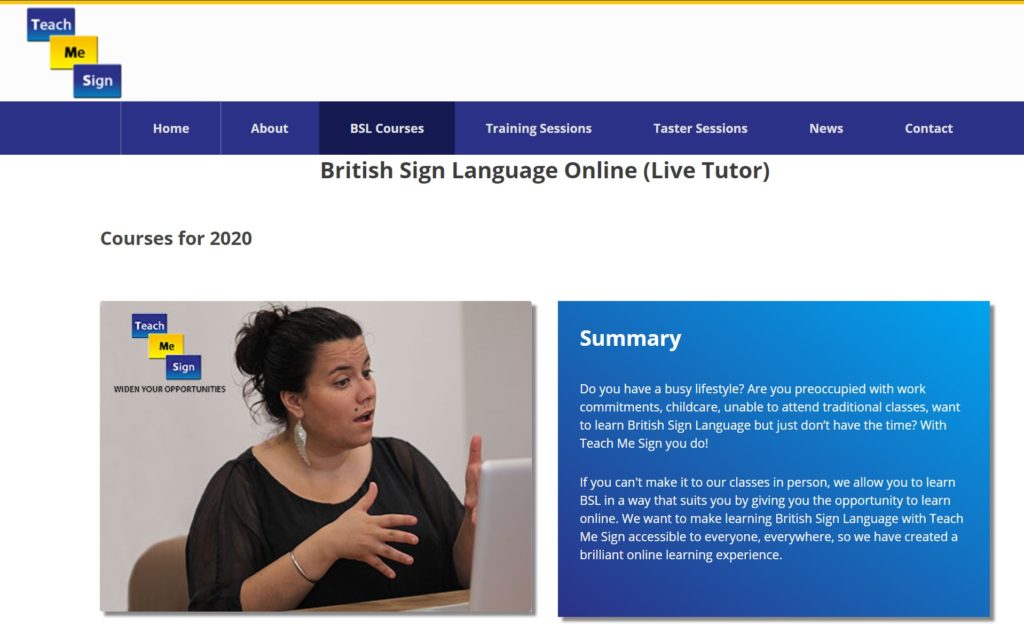 Providing certification from, and fully accredited by the iBSL, Teach Me Sign has an online BSL course that is perfect for beginners.
There are no requirements or prerequisites for entry, you simply have to want to learn BSL. It is a friendly environment with access to online resources.
You will have a lively discussion with your teacher each week, following this you will have private study exercises to build your skills and vocabulary.
This is perfect for anyone with a very busy lifestyle, or who maybe have irregular work schedules. Maybe you have a combination of work and college, this course allows for such flexibility that anyone can learn BSL It can be added as a valuable job skill, and can greatly improve the lives of the deaf you can now easily communicate with.
Another great benefit of this course is for visual learners. If you are a visual learner, then becoming familiar with level 1 BSL will come like second nature. As a bonus, if you are interested, they have a sample lesson available, as a taste.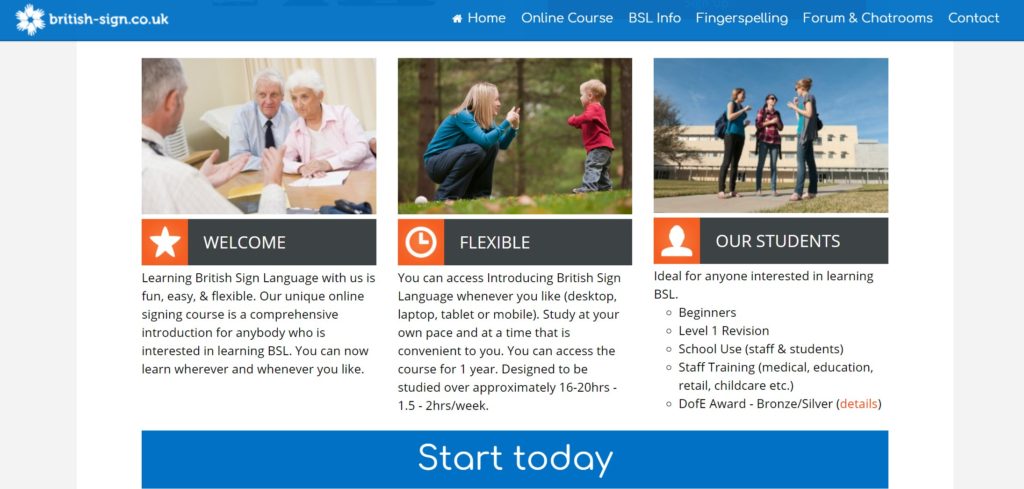 The Intro to British Sign Language course is an ideal first step for anyone looking to learn BSL in any capacity.
Whether it is for conversational use, to talk to friends and loved ones, for a more utilitarian purpose, or even just in case you should ever have occasion to use it.
Once you are registered, you can study at your own pace, on your own schedule. You will have access to the course for a full year, so you can view or review any time you feel the need.
The course is designed to be easily completed with a time commitment of only 1-2 hours per week. The full course will take approximately 16-20 hours to complete, so with quite an average effort, one could be completely done in just over two months.
Your completion certificate will be accredited by CPD, and you are free to reassess at any time to be recertified, for no additional cost.
The ten lesson course covers conversational pillars, such as:
Fingerspelling, numbers, colors, and Deaf Awareness.
Meetings, family, relationships
Descriptions of objects, hobbies
Time, money, calendar and season vocabulary
Food and drink
Emotions, advanced relationships
Animals and pets
Clothing
Conversation
Wrapping Up
When you look at potential online BSL courses, you should keep in mind how much time you will comfortably be able to commit per week, and if that needs to be rigidly scheduled or more versatile and ad hoc.
If you can schedule a little more time, then more in-depth courses like Level 1 from Signature would be a perfect choice for significant educational and professional advancement.
If your schedule is a little more unpredictable or even unconventional, then a more versatileoption like BSLcourses or Teach me Sign would be a better investment.
Christina Amerson has over 10 years of experience working as an Elementary teacher. She has 3 kids and writes in her spare time.