An easy, very inexpensive, and planet-friendly way to convert those old DVD cases into a functional mini dry erase board!
Items to Gather:
DVD case
Colored cardstock or construction paper.
Instructions:
Step 1: Locate old DVD cases and take out the original sleeve.
Step 2: Cut the paper of your choice to the following dimensions: 7-1/4″ X 10-3/4″.
Step 3: Open the case and slide the paper in.
Step 4: Be in awe of this easy to make mini dry erase board.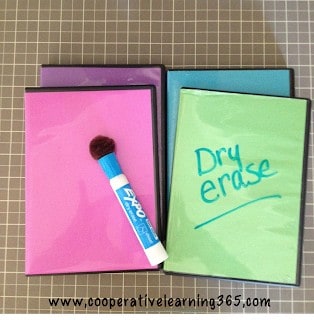 Other Tips/Suggestions:
Hot glue a pom-pom onto a dry erase marker for students to use as an eraser.
Original idea pinned from here.
Have fun expressing your creativity!
For more reading check out:
Suggested Summer Reading for Entering 3rd Graders
21 Books for Young Advanced 3rd Graders
15 Best Books for 2nd Graders (ages 7-8) 2020
Josh is a college dropout who is a self taught marketer, developer, and writer. Now he spends his time helping others learn to achieve their full potential through online learning and perseverance.