Online Fashion Illustration Courses
From design compositions to color theory, you can learn it all online and in the comfort of your own home.
With so many self-taught designers entering the market, learning how to perfect your skills is a sure-fire way to stand up above the competition. If fashion is your passion and you want to take your work to the next level, online courses are the way to go.
This article will give you an idea of some of the best online illustration classes that are available for beginners.
Our Top Pick

When it comes to learning the basics, this Udemy course will ensure that you know everything you need to know to jump right into fashion design.
This course is essentially a summary of a 4-month fashion illustration course that was designed to make the learning process much quicker and save you money overall.
One of the biggest perks of using this Basic Fashion Illustration course is that it was designed with beginners in mind. In fact, even if you have zero prior knowledge or experience, you should have no problem getting the ball rolling on your career in the fashion illustration industry.
While this course requires no specialized skill set for you, your instructor certainly is well versed in fashion illustration and design. The creator of this course is Wanwisa Rianrungrueng. Wanwisa has been drawing since she was a child and has continued to do so as an enthusiast throughout adulthood. In addition to the recreational enjoyment of the arts, she also has an education in fashion as well as professional experience behind the easel.
One of the best things about the Basic Fashion Illustration course is that it is fairly short and you are able to work on it at your own pace.
To take it front to back, you can expect to spend about 3 hours working on it, but you certainly can take your time. Whether you learn quickly, need a bit more time to get through it, or you aren't able to commit to sitting down for three hours and run through the course, you will be able to get the most out of your time.
Course Highlights:
2 Hours of Videos
15+ Lectures
Proportions of Various Ages and Genders
Body Elements and Movement
Posture and Fashion Poses
Garment Drawing
Feedback on Your Sketches
Plenty of Downloadable Content
Before enrolling, it is important to ensure that the speakers on your computer work properly and you have an internet connection that will support video playback and allow downloads.
If you're looking for an affordable course that will help take your skills to the next level, The Basic Fashion Illustration course is the way to go. For just 30 dollars, you'll be creating professional quality fashion illustrations in no time!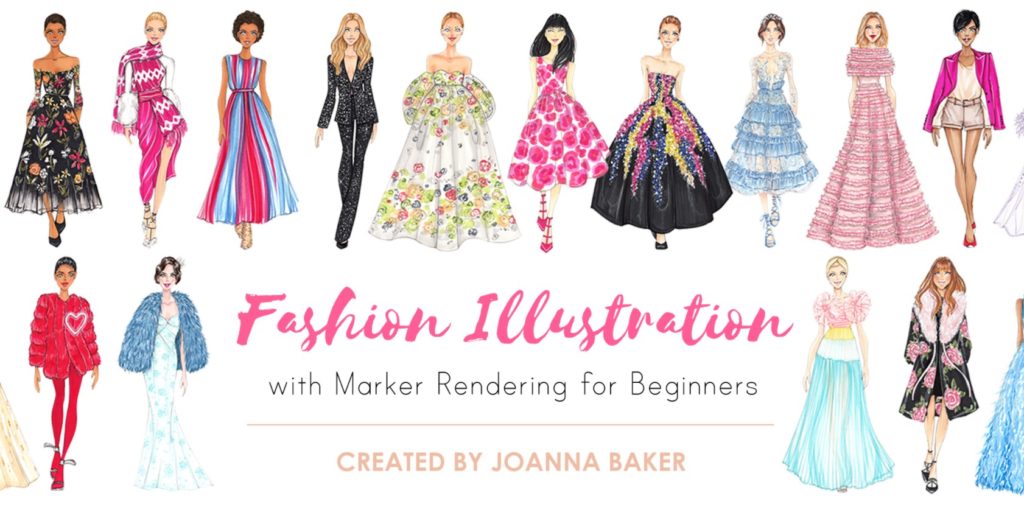 For those interested in an in-depth look at how to use artist's markers as well as learning the ins and outs of creating bold and beautiful fashion illustrations, this course is here to help!
Even if you are an absolute beginner, you will be creating spectacular illustrations in no time. Starting with the basics, you'll soon be working on rendering skin tones, hair colors, and even illustration popular fabric patterns and textures.
Created by Joanna Baker and published in early 2019, this course was designed to take your skills up by several levels.
Joanna is a fulltime freelance designer and illustrator based out of New York City. She has been working in the industry for more than a decade. After working as a designer for five years, she took the plunge into freelance illustration work in 2015.
In addition to sharing her design process on Instagram, she has a business selling her designs as prints, gifts, and stationery and has now branched out with her course, Fashion Illustration with Marker Rendering for Beginners.
So you may be wondering what exactly this course will teach you.
This is a comprehensive and in-depth course that is ideal for both beginners and those looking to improve and brush up on their skills. One of the most important things to learn is how to sketch a basic runway figure. Think of this figure as a 2D mannequin.
This is where your designs will first start to come to life. You will learn how to draw the textiles in a way that looks realistic, allowing you to really get a sense of what your clothing will look like once you jump in and create the clothing.
Program Highlights:
5+ Hours of Demos and Video Lessons
5 Reference Guides
Art Supplies List Including Links to Products
7 Printable Worksheets
Marker Buying Guide
Instant Access to Entire Course After Purchase
Templates
Easy to Follow Format
Work at Your Own Pace
If you have ever spent time looking through the sewing patterns at your local fabric shop or browsed old Sears fashion catalogs, there is a good chance that you have picked up a pencil and attempted to draw one of these fashion figures. Maybe you were even too intimidated to make that first attempt.
This course is perfect for anyone of any skill set because it starts with the basics of proportions and figure drawing and takes you through how to use artist's markers to create skin tones and hair, and you'll even learn how to draw hands and feet and create various textures that you often see in fabrics and textiles.
If you decide to commit a full day to run through the Fashion Illustration with Marker Rendering for Beginners course, you're looking at being able to finish in around 5 hours.
It is recommended that you space the lessons out and work on each section until you are pleased with your improved abilities.
This comprehensive course covers everything you need to know so that you can create a full fashion illustration.
If you pay all at once, you will save 10% off the price of the course. If that is not something you can afford, you can break your payments into three monthly payments of $92 a month.
Once you purchase the course, you will have access to all of the lessons and future updates as well. You'll be creating gorgeous illustrations in no time!
Wrapping Up
Whether you are new to fashion illustrations or you have been working on your skills for some time now, there are several online courses that will help you go from beginner to pro in no time.
Many classes are extremely affordable while others are a bit more expensive. Each class does offer different content so be sure to browse until you find the right fit for you.
If you are looking for a class on the lower end of the price spectrum, one of our favorites is the Basic Fashion Illustration course on Udemy. This one is a fantastic choice for beginners, as it covers basic skills and works up to more advanced ideas and information.
For those looking for something a bit more in-depth, Fashion Illustration with Marker Rendering for Beginners may be the perfect fit for you. This course focuses on the basics and also gets into how to use artist's markers to make your designs really pop!
Christina Amerson has over 10 years of experience working as an Elementary teacher. She has 3 kids and writes in her spare time.