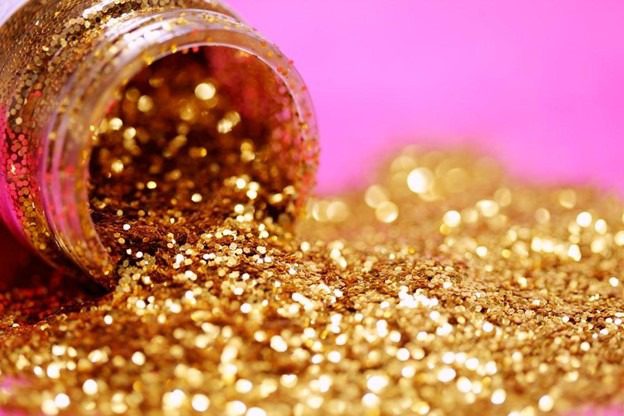 Want to add some sparkle and shine to your life? Try one of these DIY glitter craft ideas.
Everyone likes glitter! While most of us might not love the mess that a DIY glitter craft makes during the crafting process, the sparkly and shimmery final product is worth it. So, if you don't mind having a light dusting of glitter across your things, these DIY glitter craft ideas can add a little bit of bling to the dull-looking things around your home. By implementing these ideas, you won't only be revamping old home décor and utilities, you will also bring an element of luxury to your personal space. So, without further ado, let's look at three easy glitter craft ideas to add a little more shine to your life.
Step-By-Step Guide
Whether you are looking for some sparkly home décor ideas for Christmas, or simply want a little extra bling and delight in your everyday DIY craft projects? These three glitter craft ideas will surely add a dash of glitter to your life and home.
1. Glitter Bottle Cap Necklace
From old jars to plastic containers to wine corks, the job of a DIY crafter is to reuse and repurpose the old. In simpler words, we aim to put life into something which others might have thought was useless. Beer bottle caps are one of the most overlooked DIY craft supplies. Therefore, in this post, we will be recycling an old and worn-out bottle cap into an aesthetic piece of jewelry. To create an upcycled Glitter Bottle Cap Necklace, you will need the following supplies:
Bottle Caps
Mod Podge (Glass or Satin Formula)
Jewelry Balls
Strong Adhesive Glue
Paintbrush
Ribbon or Silver/Golden Chain
Follow these steps to make a Glitter Bottle Cap Necklace from scratch:
Step 1: Place the bottle cap on a clean and flat surface. Now, use a paintbrush to cover the back of the bottle cap with Mod Podge.
Step 2: Take your favorite glitter bottle and sprinkle it over the Mod Podge layer. Shake off any excess and wait for the glue to dry.
Step 3: Once the Mod Podge has dried, brush another layer of decoupage over the glitter to preserve it.
Step 4: Now turn over the bottle cap and brush Mod Podge on its inside. Sprinkle it with glitter and blow off the excess.
Step 5: After the decoupage dries, apply another layer of Mod Podge Dimensional Magic over the glitter inside the cap and let it rest overnight. In the world of DIY craft, Mod Podge Dimensional Magic is literally magical! It is a resin-like material that looks cloudy when applied. However, it takes a crystal clear form as soon as it dries. The purpose of applying Dimensional Magic is to give the glitter cap a glossy coat on the top.
Step 6: Once the glitter bottle cap has completely dried, use a clear and strong adhesive glue to attach the top of the cap.
Step 7: Wait for the glue to dry. Once it's dry, link a silver or gold chain or even a ribbon through the bail loop.
This DIY glitter craft is a double bonus; it upcycles and is sparkly. Transform your old bottle caps into an adorable piece of jewelry and pair it with your favorite dress. The Glitter Bottle Cap Necklace also makes the perfect surprise gift.
2. Glitter Dipped Candle Jars
Glitter enhances the appearance of an item to an all-new level, making it so glamorous that your guests will notice the DIY craft even from a distance. Next on our list of glitter craft ideas is the "Glitter Dipped Candle Jar." It makes a beautiful showpiece, but the candle actually works, ensuring that your personal space remains warm and cozy. In order to make a glitter-dipped candle jar, you will need the following items:
Candles
Craft Paint (designed for glass)
Alcohol (isopropyl or rubbing)
FrogTape or Masking Tape
An Empty Mason Jar
Paintbrush
Follow the below-mentioned step-by-step guide to create the DIY glitter craft project:
Step 1: Start by cleaning out the Mason jar and removing the label. To do this, use alcohol to clean the outside of the glass jar.
Step 2: Now, take a small bowl, add your favorite paint color and some glitter, and mix them up.
Step 3: On the other hand, cut out strips of the Frog Tape and wrap them around the top of the jar. While doing so, make sure that the tape is firmly and evenly attached to the glass.
Step 4: Now dip the paintbrush into the glitter paint you created and apply it over the glass surface. Another thing that you will notice here is that one coat of glitter paint doesn't perfectly cover the glass surface. Therefore apply two to three more coats of the paint and allow each coat to dry for at least an hour.
Step 5: When painting with glitter, make sure to remove the tape as soon as you finish painting (while the paint is wet) as it leaves a nice crisp paint line.
Step 6: Apply some sealing spray and give it five to ten minutes to rest. Now place the candle inside the glass jar and lighten it up.
Even though you can use regular paint as well, the benefit of using glass paint is that its air-cure formula will leave a hard, water-resistant finish. This will allow you to wash the DIY glitter craft without destroying it.
3. Glitter Ombre Oversized Monograms
Want to give your room a personal touch? These huge "Glitter Ombre Oversized Monograms" will add a remarkable personal touch to your room's décor and make its appearance super chic. To create this DIY glitter craft, you will need the following supplies:
Wooden or Paper Letters of Your Choice (Ensure that they should be thick enough to stand on their own)
Glitter Sealer (Krylon Glitter Blast Sealer)
Spray Glue
Paint
Brush-on Glue or Mod Podge (Recommended)
Glitters (At least three colors of your choice)
Paintbrush
Pencil
Follow the below-mentioned step-by-step guide to make a Glitter Ombre Oversized Monogram:
Step 1: Start by painting the background of your letters. We recommend using metallic paint as it leaves a shiny, smooth texture.
Step 2: Once the paint on the letter's background has dried, apply spray glue on the front of the letter and start sprinkling the glitter. To do this correctly, use a pencil to divide the letter into three horizontal parts (rows). Now apply the first glitter of your choice on the top row while the glue is wet. While doing so, make sure to sprinkle the glitter lightly near the border of the second row. This will result in creating a smooth color-fading transition between the three glitter hues. Repeat the step for all three sections.
Step 3: Now, pick up the letter and shake it slightly, allowing the loose glitter to fall off. You can also use your finger to blend the glitter at the intersections of the color. Place the monogram in a well-ventilated area and leave it to dry.
Step 4: Once the glitter glue has dried, apply a coat of glitter sealer (like Mod Podge). Make sure to apply light coats (and spray burst the sealer from a safe distance if using spray sealer).
Step 5: For extra punch, apply Mod Podge inside the hollow space of the letter and apply some golden-colored glitter glue.
Step 6: Let everything dry, and your DIY craft is ready to display.
This is one of the simplest and least expensive ways to dress up an average glitter creation. Place the Glitter Ombre Oversized Monogram on your bookshelf or side table to elevate the look of your personal space.
Wrapping It Up!
We have prepared a series of the top three glitter craft ideas that refresh all sorts of everyday accessories and items. Although glitter isn't a daily accessory, we all need a little sparkle in our life every now and then. It can add a light texture and a certain something special to both your home décor and everyday objects. So, what are you waiting for? Try out these DIY glitter craft projects and let us know what you think.